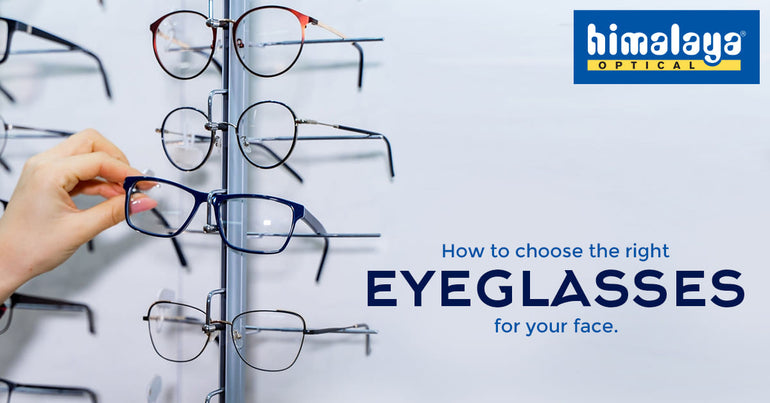 Posted by Himalaya Optical
Eyeglasses are not only there to help your vision, but they are also the perfect match for your outfit to slay in. Eyewear is one of the best accessories for evaluating your entire outfit. There is no better accessory for quickly updating your look than a new pair of Himalaya frames.
Himalaya offers a huge range of fashionable glasses. Choose the perfect frame for your outfit.
When selecting the style of eyeglasses you buy, your face shape should be a key factor. Choosing the right pair ultimately brings out your facial features. 
1. Oval Face-
Compared to their width, oval faces are longer. Additionally, you'll notice a wider forehead, rounded chin and jawline, and other distinguishing characteristics. With a longer face and rounded features, it naturally forms an oval. If you have an
oval
face and want to find the right frame, keep the following tips in mind.
Frames you need to avoid-
Larger eyeglass frames should be avoided because they will distort the symmetry of your face.
Perfect fit for your face-
Rectangular
eyewear is the ideal complement to an oval face shape, while round, square, and
aviator
styles fit your face perfectly.
2. Round Face- Round faces are more symmetrical, as evidenced by your face's relatively equal length and width. Your jawline or chin may also appear to be round. There will be no sharp angles, and the cheekbones will not be the focal point.
Frames you need to avoid- Small and circular frames should be avoided because it contrasts with the form of your face.
Perfect fit for your face- Cat-eye, square, and rectangular eyeglasses are good choices because they bring out the best features of your face.
3. Square face- The jawline is the focal point of a square face because it has sharper angles than other facial elements. It gives you a symmetrical, square appearance because it is the same width as your cheekbones and forehead.
Frames you need to avoid- Avoid angular and boxy eyeglass frames because they will draw attention to your angular features and make a square face appear bulky.
Perfect fit for your face- If you have a Square face and are looking for the perfect frame, oval, round, semi-rimless, and large glasses are your best choice.
When it comes to selecting the perfect frame, skin tone is also important. Just like your facial shape, your skin tone affects which frames look best. The style, colour, and trend of your frames can all help you appear more presentable in public. Your choice of frame also reveals a lot about your personality.